Devotional: Oneness With God
Christian Women's Devotion on being one with God

The bible teaches us that we have "oneness" with God. We are filled with the fullness of God when He dwells within us and our oneness with the Father was accomplished through the finished work of Jesus Christ (John 17:20-23(AMP); Ephesians 3:19(AMP); Ephesians 1:22-23(AMP)). But our "oneness" with God does not mean "equality" with God. Oneness with God and equality with God, I believe, are two entirely different things.
Jesus spoke in depth about His oneness with the Father, oneness with us and our oneness with each other. We, believers, must remember that we are the body of Christ and He is the Head of His body—the church. We are the temple in which God Himself indwells. We are "joined" to Christ to become one with Him (Eph.5:29-33(AMP); Eph.4:3-6 (AMP)).
Being "equal" with God is unattainable because God is deity and humans can never attain deity—we can never be God. God is omnipotent, omnipresent and magnificent; He is God Almighty high above all and the one who deserves our worship (Col.1:19 (AMP); Col.2:9-10 (AMP); Col.1:18 (AMP)).
I do not believe that God's deity dwells in a human being, even though we do have the fullness of God dwelling within us through the indwelling Holy Spirit, it in no way implies God's "deity" dwells within us.
Even Jesus, when He took on humanity, set aside His "equality" with God (though without losing His deity), to be made in the likeness of mankind (Phil.2:6-7 AMP).
© By M.S.Lowndes
Jesus answered, "If anyone [really] loves Me, he will keep My word (teaching); and My Father will love him, and We will come to him and make Our dwelling place with him". - John 14:23 (AMP)




To Print Devotional: highlight devotional, then right click and select "print", or:
By using this devotional, you signify that you have read & agreed to my 'Terms Of Use'



To return to the 'Women's Devotionals' index page, click on the 'back' button below. Please click on 'Share This Page' below, if you want to send this page to a friend - or if you want to contact me, click on the 'Mail' button below.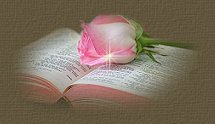 If you like, you can visit Heavens Inspirations over on Facebook: