Devotional: Having A Generous Spirit
Christian Women's Devotion on Giving and Being Generous

"Let each one [give] as he has made up his own mind and purposed in his heart, not reluctantly or sorrowfully or under compulsion, for God loves (He takes pleasure in, prizes above other things, and is unwilling to abandon or to do without) a cheerful (joyous, "prompt to do it") giver [whose heart is in his giving]."(V.7 AMPC)
Our giving must come from a generous spirit. There is no point in giving at all if it's done out of reluctance or under compulsion to give. We need to be giving out of a genuine desire to meet the needs of someone else, and be a blessing to them. As God prompts us, we should give.
I think one of the biggest hurdles to not giving is the fear we don't have enough. We put it off until we think we may have enough—but that time never comes. Things always crop up that take up our resources. But if we put God first, despite all our unpaid bills and mounting debt, and give back to Him in building His kingdom, we find we will have enough. Somehow God makes it stretch.
I can testify to this personally. We went through many years of financial struggle, but God always provided. At various times of need, people would give to us food vouchers, money or groceries. Our kids have had clothing given to them since day one. I remember one time when we were stretched, we considered using the tithe money. I was terribly upset and, though we needed the money, did not want to use it. In that week, two ladies from the Mothers Group I was going to, came around and gave us boxes of food - including meat packs. God had prompted them to give to us to meet our needs. Another couple thought our house must get quite cold during winter (as we had no carpet), so they carpeted and put lino down throughout the house as a gift. Another couple gave us a dishwasher at that time. I could tell you story after story of God's provision for us. You see, God will always provide as we honour Him first. I am totally convinced of that.

We don't have to worry that we don't have enough. In verse 10 we read that God provides seed for the sower and how He will multiply our resources for sowing. He will bring the increase in every area. None of us may end up super rich (materially speaking), but we become rich in other ways - ways that have eternal value.
My encouragement to you today is not to put off giving today what God has prompted you to give, no matter how little you have. You can be such a blessing to someone else.
© By M.S.Lowndes
Bring all the tithes (the whole tenth of your income) into the storehouse, that there may be food in My house, and prove Me now by it, says the Lord of hosts, if I will not open the windows of heaven for you and pour you out a blessing, that there shall not be room enough to receive it. - Malachi 3:10 (AMPC)
I pray, O Lord, for a heart
So willing to give to you
And with a real desire to
Bless other people too.
© M.S.Lowndes


To Print Devotional: highlight devotional, then right click and select "print", or:
By using this devotional, you signify that you have read & agreed to my 'Terms Of Use'



To return to the 'Women's Devotionals' index page, click on the 'back' button below. Please click on 'Share This Page' below, if you want to send this page to a friend - or if you want to contact me, click on the 'Mail' button below.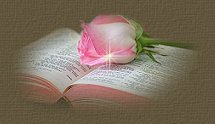 If you like, you can visit Heavens Inspirations over on Facebook:


| | | |
| --- | --- | --- |
| | | |