Devotional: Our Paths Made Straight
Christian Devotion about trusting God rather than ourselves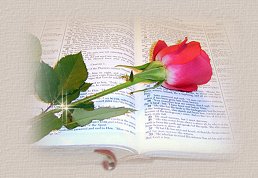 "...Lean on, trust in, and be confident in the Lord with all your heart and mind and do not rely on your own insight or understanding. In all your ways know, recognize, and acknowledge Him, and He will direct and make straight and plain your paths..." - Proverbs 3:5-6 (AMPC)
It's so important to lean on and trust in the Lord rather than ourselves. For us to lean on our own insight or understanding is foolishness. We do not know what the future holds for us.
We need to lean on and trust in God's Wisdom, to be led by Him. It's hard to lead a mule where it does not want to go—so it is with us. If we're so caught up in what we think is best, then God cannot get us to the place He wants us to be. In all our ways, we are to acknowledge Him—for He longs to be involved in every area of our lives. He then can direct us and make straight our paths.
When on the Lord we lean and trust,
He then directs and straightens our paths.
© By M.S.Lowndes

To Print Devotional: highlight devotional, then right click and select "print", or:
If you want to send this page to a friend, click on 'Share This Page' below - or if you want to contact me, click on the 'Mail' button below.
By using this devotional, you signify that you have read & agreed to my 'Terms Of Use'