Devotional: God's Truth Unveiled
Christian Devotion about the Holy Spirit revealing God's truth to us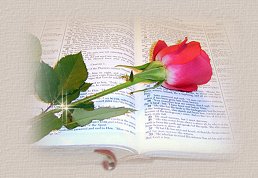 "...Yet to us God has unveiled and revealed them by and through His Spirit, for the [Holy] Spirit searches diligently, exploring and examining everything, even sounding the profound and bottomless things of God [the divine counsels and things hidden and beyond man's scrutiny]..." - 1 Corinthians 2:10 (AMPC)
The Holy Spirit is truth, and He reveals the truth to us. No amount of human wisdom, knowledge or learning is going to show us God's truth. When we are filled with the Holy Spirit, He shows us spiritual truths in God's word. He reveals the hidden meanings that our natural minds cannot comprehend.
This was one of the things that God opened my eyes to when I first became a Christian and was filled with the Holy Spirit. God's truth is unveiled to us that have been born-again by the Holy Spirit (v:10 & 14-15).
God's truth is revealed to us
Through the Holy Spirit indwelling us.
© By M.S.Lowndes
If you want to send this page to a friend, click on 'Share This Page' below - or if you want to contact me, click on the 'Email' button below.
By using this devotional, you signify that you have read & agreed to my 'Terms Of Use'

To Print Devotional: highlight devotional, then right click and select "print"