Devotional: Emmanuel - God With Us
Christian Christmas Devotion about God being with us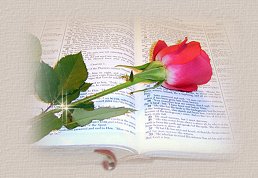 "...All this took place that it might be fulfilled which the Lord had spoken through the prophet, Behold, the virgin shall become pregnant and give birth to a Son, and they shall call His name Emmanuel - which, when translated, means, God with us..." - Matthew 1:22-23 (AMPC)
This is another name given to Jesus. Jesus was truly one with God—taking on humanity to bring reconciliation between God and us.
This was the only way to bring us back into relationship with God. God came as a baby, then grew to be a man—He walked, talked and had fellowship with humanity in the person of Jesus, Emmanuel - God with us. And today we as Christians can enjoy the presence of God and fellowship with Him through our faith in Jesus.
God is with us today
So, let us celebrate!
© By M.S.Lowndes

To Print Devotional: highlight devotional, then right click and select "print", or:
If you want to send this page to a friend, click on 'Share This Page' below - or if you want to contact me, click on the 'Mail' button below.
By using this devotional, you signify that you have read & agreed to my 'Terms Of Use'