Devotional: In Christ, We Are - Chosen
Christian Devotion about Who we are in Christ - Chosen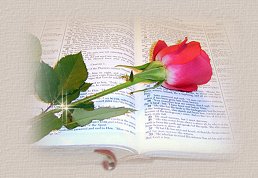 Just as He chose us in Him before the foundation of the world, that we should be holy and without blame before Him in love. - Ephesians 1:4 (NKJV)
The Amplified bible puts it this way: Just as [in His love] He chose us in Christ [actually selected us for Himself as His own] before the foundation of the world – so we would be holy (that is, consecrated, set apart for Him, purpose-driven) and blameless in God's sight.
He has selected you as His own. He has hand-picked you to be His own. You are so very special to God – much more than you can comprehend, because even before the foundation of the world, God had you in mind and had a marvellous plan for your life.
Pause for a moment and meditate on this truth of who you are and give thanks to God for His infinite love.
© By M.S.Lowndes
But we should and are [morally] obligated [as debtors] always to give thanks to God for you, believers beloved by the Lord, because God has chosen you from the beginning for salvation through the sanctifying work of the Spirit [that sets you apart for God's purpose] and by your faith in the truth [of God's word that leads you to spiritual maturity]. It was to this end that He called you through our gospel [the good news of Jesus' death, burial, and resurrection], so that you may obtain and share in the glory of our Lord Jesus Christ. - 2 Thessalonians 2:13-14(AMP)

But you are a chosen race, a royal priesthood, a consecrated nation, a [special] people for God's own possession, so that you may proclaim the excellencies [the wonderful deeds and virtues and perfections] of Him who called you out of darkness into His marvelous light. -1 Peter 2:9 (AMP)


To Print Devotional: highlight devotional, then right click and select "print", or:
If you want to send this page to a friend, click on 'Share This Page' below - or if you want to contact me, click on the 'Mail' button below.
By using this devotional, you signify that you have read & agreed to my 'Terms Of Use'