Devotional: Integrity and Justice
Christian Women's Devotion on having Integrity

We are to be honest in our business dealings. Even in what seems to us to be small matters, and nobody will be bothered by it. But even in the small things, we need to have complete honesty and integrity. There are lots of areas where people don't mind bending the law. They reason that it's a minor thing and nobody would ever know and besides, everyone does it! But God knows. He knows the secrets of the heart.
You see, I believe to God these things are never small, nor gone unnoticed. We need to obey the law of the land. We need to be 'aboveboard' in all things. My way of thinking is that by doing something that is even slightly dishonest in the Lord's eyes, just because we can get away with it, can hinder what God would do in us and through us in the future. I'm always mindful of that. I personally don't want anything that God would do in my life to be hindered. There's too much to lose by moving the boundaries—even if it's slight.
Don't let anything become a stumbling block for what God would do in your life!
© By M.S.Lowndes
For we take thought beforehand and aim to be honest and absolutely above suspicion, not only in the sight of the Lord but also in the sight of men. - 2 Corinthians 8:21 (AMPC)
Lord, I pray that I will have
Integrity in my life
And be just in all my dealings,
Honouring the name of Christ.
© By M.S.Lowndes

To Print Devotional: highlight devotional, then right click and select "print", or:
By using this devotional, you signify that you have read & agreed to my 'Terms Of Use'



To return to the 'Women's Devotionals' index page, click on the 'back' button below. Please click on 'Share This Page' below, if you want to send this page to a friend - or if you want to contact me, click on the 'Mail' button below.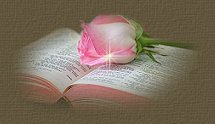 If you like, you can visit Heavens Inspirations over on Facebook: