Devotional: A Heart Of Thanksgiving
Christian Devotion on Thankfulness

We read here how Jesus healed ten men with leprosy. They cried out to Jesus as He was passing by. Jesus healed all ten, but only one returned and gave thanks to Jesus.
Like the other nine, do we forget to give thanks and praise to God when we receive answers to our prayers, or when He comes through in some miraculous way to provide for a particular need?
Sometimes we can take for granted what God does in our lives, but we must have the same attitude that this man had when he saw that he was clean. He didn't hesitate to give thanks to Jesus - but praised and worshiped Him. There is so much we can think of in our own lives to be thankful for. All we need to do is look around and see how God has blessed us. God has poured out His blessings in abundance. May we indeed have thankful hearts, and live in an attitude of thanksgiving everyday.
© By M.S.Lowndes
Make a joyful noise to the Lord, all you lands! Serve the Lord with gladness! Come before His presence with singing! Know (perceive, recognize, and understand with approval) that the Lord is God! It is He who has made us, not we ourselves [and we are His]! We are His people and the sheep of His pasture. Enter into His gates with thanksgiving and a thank offering and into His courts with praise! Be thankful and say so to Him, bless and affectionately praise His name! For the Lord is good; His mercy and loving-kindness are everlasting, His faithfulness and truth endure to all generations. Psalm 100 (AMPC)
Lord, may we have thankful hearts
No matter what comes our way,
May we see the many blessings
In our lives today.
© By M.S.Lowndes


To Print Devotional: highlight devotional, then right click and select "print", or:
By using this devotional, you signify that you have read & agreed to my 'Terms Of Use'



To return to the 'Women's Devotionals' index page, click on the 'back' button below. Please click on the 'Share This Page' button below if you want to send this page to a friend - or if you want to contact me, click on the 'Mail' button below.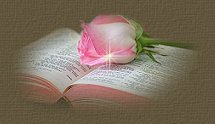 If you like, you can visit Heavens Inspirations over on Facebook: